Previous Episodes:
This is not another Trump voter conversation. It's not an end-point or a neat conclusion to the series. This is Lea crying into her iPhone at 10pm on a Tuesday because she doesn't know what to conclude, how to mend, where to go. It's a messy, confessional audio letter about kidney stones, sea urchins, The Breakfast Club, and conflicting instincts. It's an attempt at answers, featuring listener voicemails and a brand new Strangers initiative, which we hope you might join.

Join our "Hate Not Here" facebook group here.
---
This is where the gloves come off. In this episode, Lea travels to New York to talk to a Trump supporter who defies a lot of the stereotypes: he's coastal, young, urban, educated, Jewish, an immigrant… But man oh man do the punches fly, on both sides.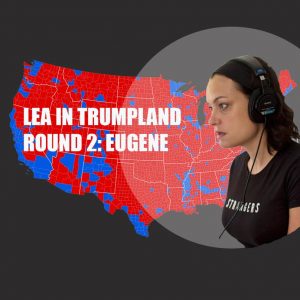 ---
Lea has been traveling around interviewing Trump supporters and she's tried to do it differently. She's gotten drunk with them and high with them, she's road-tripped with them and stayed overnight in their kids' bedrooms, she's cried with them, dined with them, yelled at them (and vice versa) to bring the conversation to a new place, using herself to get a more intimate look at a confusing situation (sort of like she did with her online dating experiences in the popular "Love Hurts" series). In this first instalment of the Trumpland mini-series, Lea travels to Reno, Nevada to meet Alicia.
---
In this episode we revisit the story of Alaa Khaled AKA Alec Ledd and ponder life's big questions, such as kugel, identity, celebrity, and how far we will go to please Barbra Streisand or compete with a more-famous brother.
---
It starts with a murder and ends with new questions. In between there's Claire's story. That's not her real name. It's neither her old name, nor her new name. It's the name she took to tell this story.

Warning: this episode contains graphic and disturbing content. Do not listen with children.

Illustration by Avi Odenheimer
---