Previous Episodes:
A couple of weeks ago we got an email from Sam in Australia about his podcast Human/Ordinary. We liked it so much we decided to share it with you. Here's an adapted version of his 10th episode called Headstone: Breath and Bone. The content might be intense for some. You will glean the subject matter quickly, so please listen at your own discretion.
---
We check in with Franky who did 20 years in prison for a crime he didn't commit (listen to our original Franky Carrillo episode "Life" for the backstory) and find out how he's doing now and what he's been up to for the last six years since his exoneration. It was worth the visit.
---
Franky spent 20 years in prison for a crime he had nothing to do with. This is his remarkable story. We first published this story four years ago and are rerunning it this week as part of the network-wide Radiotopia theme, "Doing Time." And we're working on a follow-up story about Franky's life now, so this is your chance to get caught up on Chapter 1. Don't miss it.
---
This is not another Trump voter conversation. It's not an end-point or a neat conclusion to the series. This is Lea crying into her iPhone at 10pm on a Tuesday because she doesn't know what to conclude, how to mend, where to go. It's a messy, confessional audio letter about kidney stones, sea urchins, The Breakfast Club, and conflicting instincts. It's an attempt at answers, featuring listener voicemails and a brand new Strangers initiative, which we hope you might join.

Join our "Hate Not Here" facebook group here.
---
This is where the gloves come off. In this episode, Lea travels to New York to talk to a Trump supporter who defies a lot of the stereotypes: he's coastal, young, urban, educated, Jewish, an immigrant… But man oh man do the punches fly, on both sides.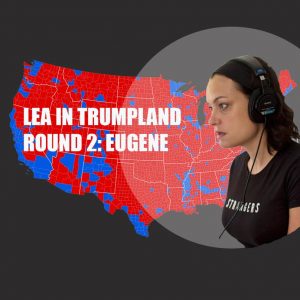 ---