From Lea Thau, Peabody award-winning producer and former Director of The Moth, comes the storytelling podcast Strangers — part of KCRW's Independent Producer Project and of Radiotopia from PRX. Strangers is hosted by Lea Thau, and produced by Lea Thau, Laura Fetherstonhaugh and Paul Dreux Smith.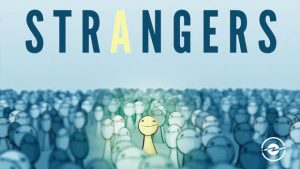 Each episode is an empathy shot in your arm, featuring true stories about the people we meet, the connections we make, the heartbreaks we suffer, the kindnesses we encounter, and those frightful moments when we discover that WE aren't even who we thought we were. Subscribe in iTunes, join us on Facebook or SoundCloud. All episodes are available here.

Radiotopia, from PRX, is a curated network of extraordinary, cutting-edge podcasts. Radiotopia empowers independent producers to do their best work, grow audience and increase revenue. At its core, Radiotopia cultivates community — for both listeners and makers alike.
---
Strangers is supported by Casper, Audible and Squarespace.
Casper is an online retailer of premium mattresses for a fraction of the price.
— Get $50 toward any mattress purchase by visiting casper.com/strangers and using promo code strangers at check out.
Audible — Audible is the Internet's leading provider of spoken word entertainment, and has more than 250,000 audiobook and spoken word audio products.
— Get a free 30-day trial by visiting audiblepodcast.com/strangers.
Squarespace is the all-in-one solution for anyone looking to create a beautiful website.
— Start your free trial at squarespace.com/strangers.
---
Latest Episode:
Franky spent 20 years in prison for a crime he had nothing to do with. This is his remarkable story. We first published this story four years ago and are rerunning it this week as part of the network-wide Radiotopia theme, "Doing Time." And we're working on a follow-up story about Franky's life now, so this is your chance to get caught up on Chapter 1. Don't miss it.
---