From Lea Thau, Peabody award-winning producer and former Director of The Moth, comes her new storytelling baby, Strangers, part of KCRW's Independent Producer Project and of PRX's Radiotopia collective.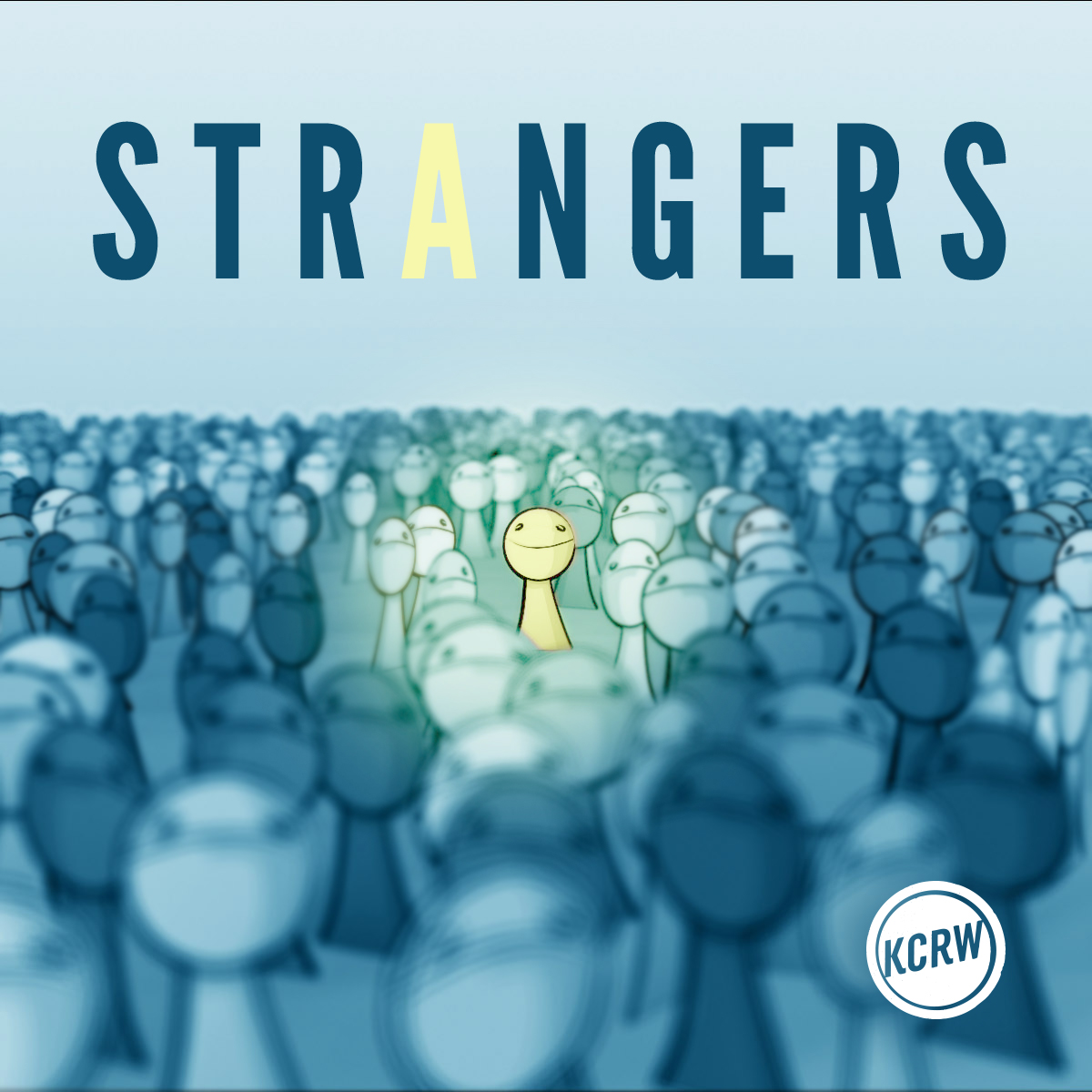 Each episode is an empathy shot in your arm, featuring true stories about about the people we meet, the connections we make, the heartbreaks we suffer, the kindnesses we encounter, and those frightful moments when we discover that WE aren't even who we thought we were. Subscribe in iTunes,  join us on Facebook or SoundCloud. All episodes below.
Assistant Producer Laura Fetherstonhaugh. Musical supervisor Myke Dodge Weiskopf. Strangers is supported by The Leon Lowenstein Foundation, the Lucius and Eva Eastman Fund, the Annenberg Foundation, the Goldhirsh Foundation and the Roth Family Foundation.
Latest Episode:
This is a story of mothers, love, regrets and redemption, and of secrets from many years passed that cast long shadows in our lives. It's about how Deborah Jiang-Stein came to be pulled over by two highway patrolmen at 19 years-old, with a trunk load of dope, a .38 revolver and a 10" switch blade…and that's only the beginning.

Deborah Jiang-Stein is the founder of The unPrison Project, empowering women and girls in prison: www.unprisonproject.org and she is the author of PRISON BABY: A Memoir. Her web site is www.deborahstein.com.
---
Featured Episodes:

Murder, music, mystery. A controversial event in 1997 changed the fate of two band mates.


---

A tale of true love spanning four decades, two countries, and classic racial divides...


---

A story about the places we go and the people we find. (Sorry we don't want to give it away, just listen, please.)


---

A 40-year-old stroke victim demonstrates that a sense of humor can be the last thing to go.


---

Producer Lea Thau embarks on a strange online dating adventure.


---
Recent Episodes:
April is the cruellest month. At least it can be. If you are depressed or heartbroken, there is nothing worse than the thaw and the blossoms and the girls in short dresses and the lovers on park benches licking melting ice cream off each other's faces and fingers. It makes your heart ache more because you remember the times when you felt like that, when spring made your heart sing as your rode your bike through the woods with the wind in your hair to meet friends on the shore, and the sun shone through the leaves in playful patterns. And there was a slight chill in the air down there in the shade of the trees, which might have warned you that age and experience would bring darker times in springs ahead, if you hadn't been too innocent or just happy to notice. But you don't understand the true cruelty of April until you are freshly heartbroken or terribly depressed, just like you don't understand the true beauty of April until you've experienced a magical spring, and what's more magical than being in love?

On this episode we're honoring spring with a couple of very small stories about the quest for love, and the way it sometimes works out and sometimes does not. The first story, Copenhagen Laundry, was recorded and edited by Danish radio producer Christine Runøe. The second story, Looking for Love in El Paso, features Dave Kessler and first appeared on Strangers in February 2012.
---

Adrian is 25 and losing his eyesight. He's in a race against time. He's also in a battle between humility and pride. When is it stubborn, perhaps even foolhardy, not to make concessions to one's disability? When is it the only way out? And where do you find wisdom to know the difference?


---

We revisit Jenni Rowell from the episode "Life, Interrupted" to see where things stand, and learn some sh*t about life.


---

A booker for TV court shows shares highs and lows from the merry-go-round of daytime justice...


---

For Valentine's Day we return to the theme of love, with a story about someone else's heartbreak for a change. As for Lea's heart, well, you'll see….


---

To mark the three-year anniversary of Strangers we share with you the very first story ever featured on the show, about Stephen Rochelle and his son Matthew, and we return to Stephen to see how they're doing now, three years later. In July 2011, Matthew Rochelle stood trial for murder. This is the story of what happened from the point of view of his father. How did his sweet little boy end up in this place? How do you cope when your own child becomes a stranger? Can you make a difference if you do everything in your power to get him back?


---

Lea received hundreds of messages in response to her raw, personal four-part series, "Love Hurts." In this follow-up episode, she strings together the funny, poignant and moving voice mails she received from listeners in response to the series and tries to make sense of this thing called love, finally. She also gives an update on her most recent dating adventure…


---

Greg O'Brien was in his late 50s when strange things started happening…


---

Sam Feirstein takes a broken heart to Alaska and finds surprising kindness in "enemy territory." Also, producer Lea Thau takes a broken heart to India and has a "stranger" experience that inspires her to create this show.



---

For Halloween, we give you a ghost story of sorts. Not in the traditional sense, but we think you'll know what we mean when you hear it. As a little boy, Bill Ratner experienced a series of tragedies. Then he learned to scream….



---
Strangers, at its core, is about the beauty and the struggle of human connection and what happens in those moments when we get closer to someone else, or, say, further removed from ourselves. Often that change is subtle and slow, but sometimes it is sudden and monumental. Here is Lyena Strelkoff. Check out

Lyena's blog

.

A version of this story was previously featured on Season 1 of Strangers.
---
A waitress, a former bomber pilot and a retired railroad engineer embark on the adventure of a lifetime. Story told by Jennefer Ludwigsen.

A version of this story was previously featured on Season 1 of Strangers.
---

In this final installment of Love Hurts, Lea talks to a guy SHE turned down.


---

In this third installment of Love Hurts, Lea seeks dating advice from two experts and lets it all hang out. Love Hurts is a series in which Lea investigates why she is single. We recommend listening to the episodes in order.


---

Lea Thau tells more stories from her love life and interviews yet another guy who turned her down.


---

While doing a story about online dating, Lea gets her heart broken (yet again).


---

Kenna, formerly known as Ken, came out 5 years ago. This is her story.


---

Two young men receive a surprise delivery. And it's a newborn. Whaaa!


---

A stripper and a tattoo artist have a fateful encounter.


---

Jenni Rowell had surgery last year that altered her appearance forever. She wrote to us and said " I have a story about seeing a stranger every time I look in the mirror." As we worked on her story, things took a turn for the worse...


---

Just how fabulous is it to be fabulously rich? 4 stories of wealth--inherited and earned.


---

An online dater finds love after 16 years, and an exonerated prisoner goes to see the former District Attorney.


---

An immigrant boy receives an offer he can't refuse.


---

A hip young artist couple find themselves in an arranged marriage.


---

A woman finds her way to the all-american, suburban, lesbian life.


---

Does true altruism exist? Here are three stories that say yea, nay, and just maybe...


---

Legendary non-fiction writer, Gay Talese, discusses his marriage, his work, and the scandals that have made waves in both.


---

A man spends 20 years in prison for a crime he didn't commit, but comes out ahead...


---

Moby shares moments with strangers, Alec Ledd goes Jewish for Barbara Streisand.


---

Three stories of heart break and true love.


---

The son of missionaries is taken to Greece at age 5 and returns to the U.S. in the 8th grade with a mullet and a Jesus shirt. And that's just the beginning...


---